Also, a trans teen who, according to TERFlogic, has non-functioning genitals is also a sexual predator who will attack her siblings.
And while it's trans people of all ages who are, according to TERFlogic, sexually deviant, I'd like to point out that this particular "gender critical" thread generated over 100 comments:

 That's right. That's 124 times TERFs couldn't stop themselves from obsessing over a kid's genitals because they're not cis. But then, TERFs have a long history of demanding access and the right to publicly describe the genitals of trans kids: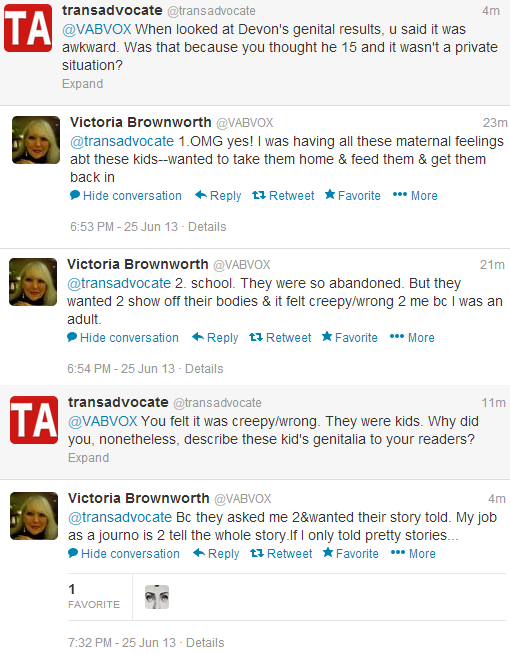 You might be interested in these posts as well: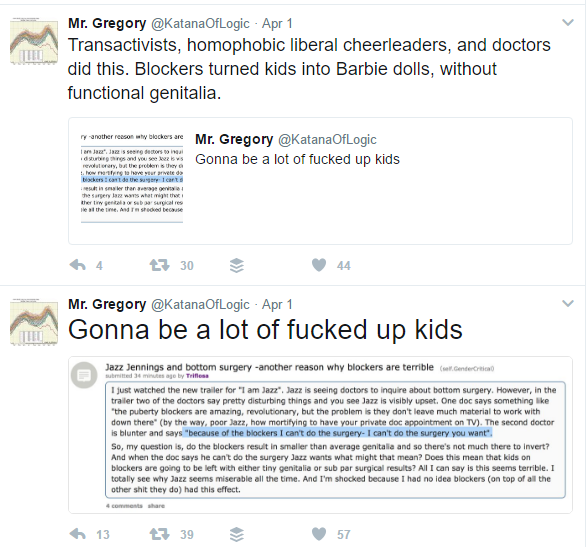 And, of course, they can't help but conflate gender dysphoria with gender non-conformity by relying on DSM-IV desistance rates that found that 70 – 80% of kids diagnosed with a gender identity disorder (GID) desisted in having GID. Nevermind that under the DSM-IV, a kid could be diagnosed with GID without ever having experienced gender dysphoria.  Under DSM-IV standards, a kid could be 100% happy with their sexed attributes and express no interest in transition and yet qualify as having GID merely because the kid was, in some way, gender nonconforming.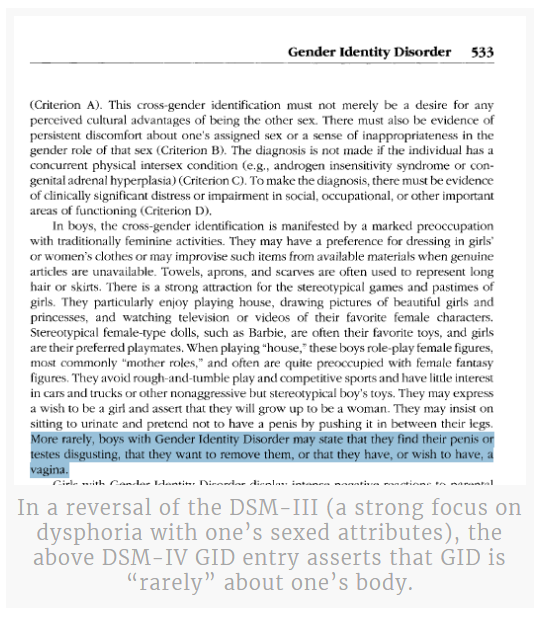 Dr. Zucker, the patron saint of the gender critical movement, asserted that 70% of the children he treated for GID at his clinic did not have gender dysphoria. When it comes to dealing with gender dysphoria, even Dr. Zucker rejects the nonsense TERF assert:
[A]t age 3, children begin to self-label and form their gender identity. Nascent signs often emerge before age 18 months and perception of gender is present and forming […] [a]t age 15 in adolescence the most likely outcome is persistence of the GD. 70%-80% would continue to have GD. The treatment would be social transition and biomedical treatment. – Dr. Zucker
Of course, a "gender critical" activist won't tell you any of this. Instead, they'll lie: purposefully conflating gender nonconformity with gender dysphoria; conflating DSM-IV findings/standards with contemporary findings/standards; and, pretending that "affirmative care" means that trans kids are given hormones and surgeries.

Rate this example of #TERFLogic!
Rating System:
1 star = Relatively Reasonable
5 stars = Total Bullshit
#TERFLogic is our daily effort to prove that the anti-trans hate movement calling itself "Radical Feminism" and/or "Gender Critical Feminism" is neither.